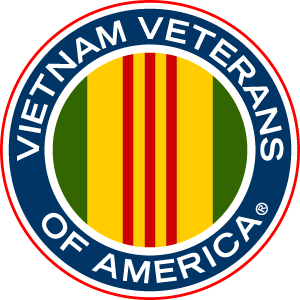 The Wilmington Delaware Memorial Day Committee is proud to announce the Grand Marshall for The 151
st
Parade and Observance: Vietnam Veterans of America Chapter 83
Vietnam Veterans of America Chapter 83 was chartered in 1983 and is very active not only in New Castle County but in the entire State of Delaware. They have initiated many programs over the years with a few listed below:
Administering a very successful service office where veterans can get the help they need to file claims and get the health care they need.

VVETS (Vietnam Veterans Experiences and Today's Society) where Chapter 83 Members go into the schools and talk about the war and answer questions. This program has been ongoing for over 30 years.

The Gold Star Program where banners of the fallen were hung on display through the entire State for a year. The banners are then to the family's when they came down.
Other activities include:
Challenger Little League

Wreaths Across America
Chapter 83 Member Ron Elliott has the "POW/MIA TrucK" he uses this to transport deceased veterans or military members to the cemetery. All anyone need do is ask him and he does this at his own expense.
Chapter 83 is a small chapter, but we have done some mighty big things, always adhering to our motto
"Never again will one generation of veterans abandon another"