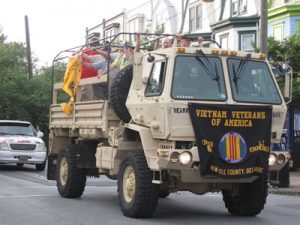 On behalf of Wilmington's Memorial Day Committee, I would like to invite you and your organization to march in Wilmington's 2017 Memorial Day parade.
This year marks the 150th consecutive observance of the traditional Memorial Day,  May 30, in Wilmington.
The tradition began in 1868, when a group of New Castle County citizens formed a Memorial Day Committee, to honor those who died in the Civil War.
We feel it is important, as we know you do, to pass on the tradition of honoring those who have given their lives for our country.
The parade lines up 5:15 p.m., steps off at 6:00 p.m., May 30, on Delaware Ave. at Woodlawn Ave..  Participants march east down Delaware Avenue to the Civil War Monument at Broom St., where we honor the dead of all wars with a memorial service.
Your participation in our parade will be a tribute to those who have died for our country. For your convenience, our participation form follows.
Sincerely,
Thomas Kenney, chairman