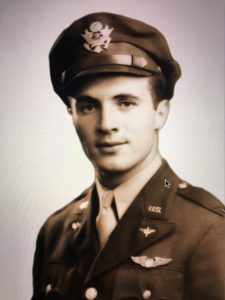 The Wilmington Delaware Memorial Day Committee is proud to announce the Grand Marshall for The 152nd Parade and Observance: Raymond Firmani, B-17 pilot , 8th Air Force, World War II Veteran
Raymond Firmani is a first-generation Italian-American who became the head of his household at an early age and rose to meet every challenge life offered. After growing up in Wilmington, he enlisted in the Army at 22. He earned his wings, and was deployed as a B-17 Co-pilot in the 486th Heavy Bombardment Group, part of the mighty 8th Air Force in World War II.
Ray and his crew were rewarded for their coolness under pressure and promoted to lead squadron crew for their 7th mission. They would be flying point for their squadron of twelve planes for the the remaining 19 missions. Ray still credits their success to his crews formation flying prowess, and the crews good luck charm. A small wooden dog called, the SOUP HOUND, which was passed around by the crew before each mission.
He completed his tour of 25 missions over Germany, eventually winning the Distinguished Flying Cross for extraordinary heroism. He made 1091 pilot designation and was offered his own crew near the end of his tour. He refused to leave his existing crew as they became close friends and had seen many other airmen die. They flew 25 missions and made it through unscathed. Today Ray is 97 years young and going strong.
He has lived in Delaware for 90 years, and had his biography entitled "Against All Odds, the Ray Firmani Story ", written by Mitch Topal and published in the summer of 2017.
"As dawn approached on December 23, 1944, First Lieutenant Ray Firmani of the US Army Air Corps lay wide awake in his bunk. A freshly minted B-17 bomber pilot, he was to fly his first mission: Take off from the airbase at Sudbury, England, fly deep into enemy territory and hit his targets: Manufacturing sites and rail yards near Homberg, Germany. Later that day, while 25,000 feet over ene- my territory, his wife, Elaine who was living with her parents in Omaha, Nebraska gave birth to their first child."
Biography courtesy of Delaware Aviation Hall of Fame